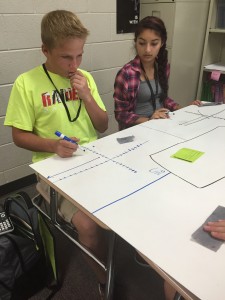 This post could also be entitled:  "Stuff I learned from Twitter over Christmas Break."  One of the things I love about break is the chance blog binge and peruse twitter for ideas.  I have a folder in my g-mail entitled "Read over break" and LOVE when I get to crack it open.  I bore easily and without new ideas, (gulp!) even teaching might become stale for me.
1.  Wingman  I watched a great little video regarding a strategy called Wingman from the Teaching Channel.  Here the most pensive and quiet student is asked to engage by observing  the group and giving feedback later.  I highly value student to student communication in the process of learning.  That being said, I know that my class must be an introvert's nightmare.  This will allow the introvert to be an observer and  still participate in the learning.  The video demonstrated the Wingman strategy in an ELA class but I would give it a little twist in my HS Math classroom.  I'd most likely hand the "wingman" a sheet to keep a record of when students apply one of the 8  mathematical practices and encourage groups to make sure they touch on at least four or five of them.  At the end the "wingman" could give a report to the group on their progress and point out individual strengths.
2.  Closure Strategies  I found this great article on Edutopia on 22 Powerful Closure Activities by Todd Finley.  While quite of few of them were either ELA or elementary in nature, here are a few I'd like to try:
High-Five Hustle
Ask students to stand up, raise their hands and high-five a peer — their short-term hustle buddy. When there are no hands left, ask a question for them to discuss. Solicit answers. Then play "Do the Hustle" as a signal for them to raise their hands and high-five a different partner for the next question. (Source: Gretchen Bridgers)
Exit Ticket Folder
Ask students to write their name, what they learned, and any lingering questions on a blank card or "ticket." Before they leave class, direct them to deposit their exit tickets in a folder or bin labeled either "Got It," "More Practice, Please," or "I Need Some Help!" — whichever label best represents their relationship to the day's content. (Source: Erika Savage)
3.  Kick me.  The first rule of "kick me" is NO KICKING.  Good to know.  I found this great strategy on the Teaching Channel as well.  I teach Geometry and this strategy allows me to help them solidify their understanding of the plethora of vocabulary associated with the topic.  I would probably create a sheet that includes several figures that demonstrate the vocabulary word.  Students would have the vocabulary words taped to their backs and would have to search out the matching vocabulary.  This might be a great "beginning of the school year" activity that would allow them to mingle AND give me some idea what geometry concepts that they brought with them from middle school.
4.  Better Quiz Corrections  Okay, this one I THUNK up myself…well, sort of.  It started when I began only highlighting errors on quizzes and giving students 5-10 minutes to make corrections after they were returned as a result of watching this fabulous video from…the Teaching Channel (have I mentioned how much I LOVE this Twitter follow?).  I thought that I might make a half slip that students can fill out that might give them (and me) more feedback: You can view that here.
5.  Reflecting on Student Work.  This idea came also from a video from Teaching Channel but I can't seem to find it.  The idea is to take two students from the class and follow their work throughout the year.   I would love if several of my colleagues could join me in this.  We can see the types of errors our students are making and what antidotes we have, as a team, to counteract them.   Since PLCs seem to be a major goal in our district and school this year, this sounds like a good place to start.
Well, here's to a fabulous 2016!  Wishing teacherdom all the best!  What are your resolutions?  Please share! 🙂