Last year was the first time I co-taught Geometry with a Special Ed teacher.  While originally hesitant to share my classroom (I definitely have control freak tendencies), I LOVED it!  It was wonderful to have two professionals in the room to instruct, assess and care for our room full of kiddos. You can read a bit about my co-teaching reflections here.
While my experience was extremely positive, that might not always be the case for all co-teachers.  For some, relationships between co-teachers can seem like an awkward partnership.  Some are just "playing nice for the kids."  We can do SO much better than that!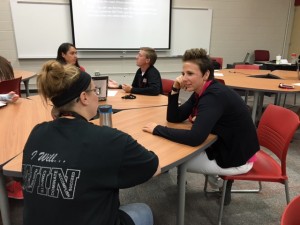 In an attempt to get a jump start on establishing solid co-teaching relationships, the instructional coaches provided a Co-Teaching workshop on the first inservice day of the new school year.  After a brief presentation given by my co-teacher Jeff and I, and our new instructional coach Emily (who is a huge advocate for co-teaching) we provided an opportunity for a co-teaching "first date."  The "first date" consisted of  a list of conversational topics from persona
lity type to classroom management styles.  The main objective was for teachers to find a common, workable ground for their classrooms.
I've included both the presentation and the "first date" discussion sheet.  Perhaps you and your co-teacher might want to have a "first date" as well?
Best wishes to all those co-teachers out there partnering to provide the best possible experience for those sweet faces in their classrooms!  Make this the #bestyearever .